On the first Monday in May of 2023, the Met Gala took place. Celebrities honored the late, great Karl Lagerfeld at the event in a variety of ways. Some wore vintage pieces created by the designer, while others wore items inspired by his style as rival fashion houses reinterpreted some of his most well-known pieces. The most prominent monochromatic trends on the red carpet were black and white. Get ready for an unforgettable night of fashion as we explore some of the Top 10 Best and Worst Dresses at the Met Gala 2023!
Best Stunning outfits from the 2023 Met Gala
Naomi Campbell in vintage Chanel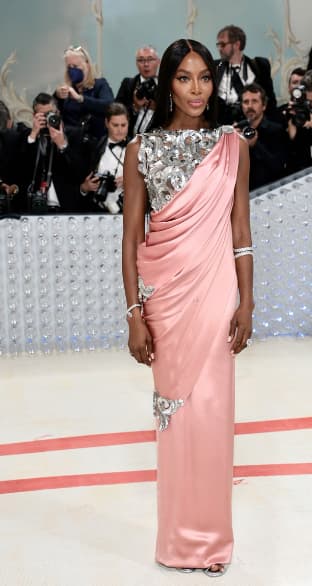 Image: JustJared.com
In addition to many other Nineties supermodels, Naomi Campbell thought it was the ideal night to wear a bit vintage Chanel. She made the stylish and sophisticated choice of a pink satin dress with embellished elements from Chanel's spring/summer 2010 couture line.
Lily Collins in Vera Wang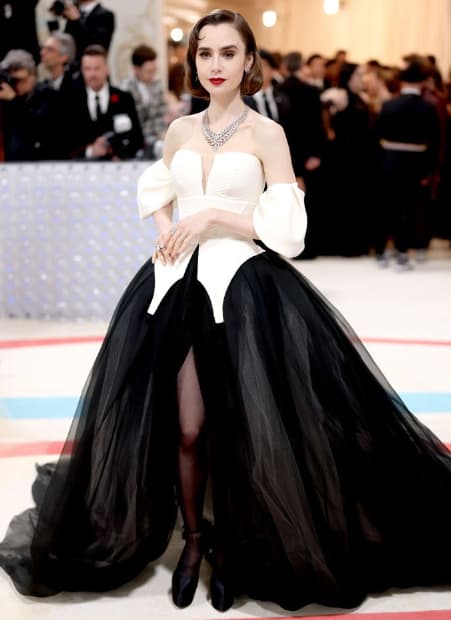 Image: JOHN SHEARER//GETTY IMAGES
We also had the chance to witness how different designers interpreted Karl Lagerfeld's creations, and we especially liked Vera Wang's interpretation. Actress Lily Collins donned a beautiful Karl Lagerfeld dress with a white bodice and a flowing black skirt. The name "Karl" was embroidered on the train.
Rihanna in Valentino haute couture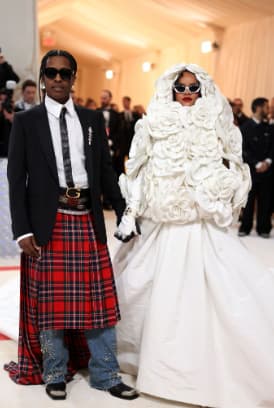 Image: JOHN SHEARER//GETTY IMAGES
Rihanna consistently ranks among the Met Gala attendees with the best outfits, and she did not let us down in 2023. The singer went for a stunning white haute couture ballgown by Valentino that came with a flowery headpiece that referred to the Camellia, the emblematic Chanel flower.
Michaela Coel in Schiaparelli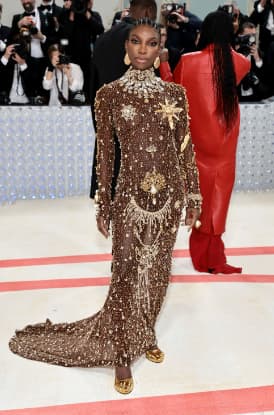 Image: JAMIE MCCARTHY//GETTY IMAGES
Michaela Coel had a huge night because she was one of the hosts of the event. Because of this, she needed to look amazing on the red carpet, which she most surely did. For the occasion, the actress and director wore a Schiaparelli gown embellished with 130,000 crystals.
Anok Yai in Prabal Gurung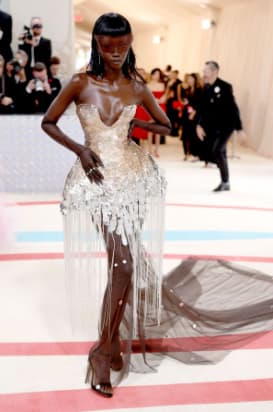 Image: JOHN SHEARER//GETTY IMAGES
One of the night's best outfits came from Anok Yai and Prabal Gurung, who played with tulle, crystals, and the most beautiful silhouette. She accessorized her tiny dress with edgy sunglasses and silky opera gloves that reached her elbows.
Nicole Kidman in vintage Chanel
Image: People.com
The Met Gala is about more than simply looking amazing; it's also about using your ensemble to tell a story, and Nicole Kidman may have had the best one of the evening. The actress wore the same Chanel couture dress that she had debuted in 2004 for the renowned Baz Luhrmann-directed Chanel No. 5 fragrance commercial.
Anne Hathaway in Versace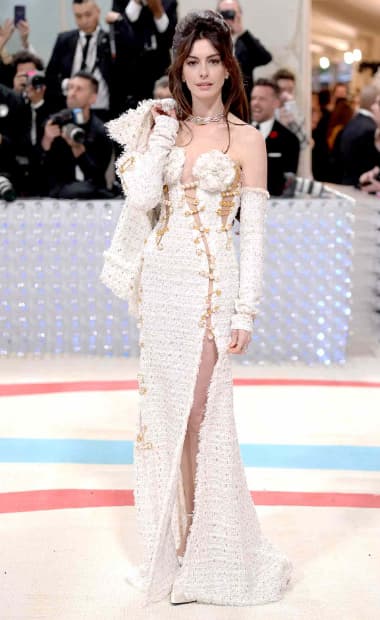 Image: People.com
Anne Hathaway's outfit, which was the ideal mash-up of Versace and Chanel, was one of the most popular approaches to this. The actress donned a floor-length, tweed gown with safety pins by Versace that was made in one color.
Lily Aldridge in Oscar de la Renta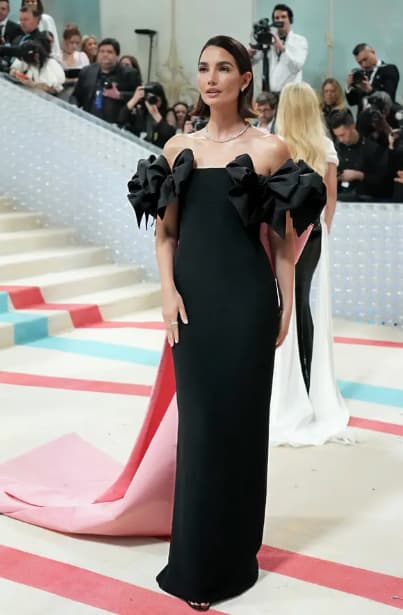 Image: New York times
Lily Aldridge consistently pulls off easy chic. Her 2023 Met Gala ensemble reflected exactly that, with Oscar de la Renta designers adding their own flair to Karl Lagerfeld's creations. The pink train and eye-catching shoulder bows on the black gown stood out.
Camilla Morrone in Rodarte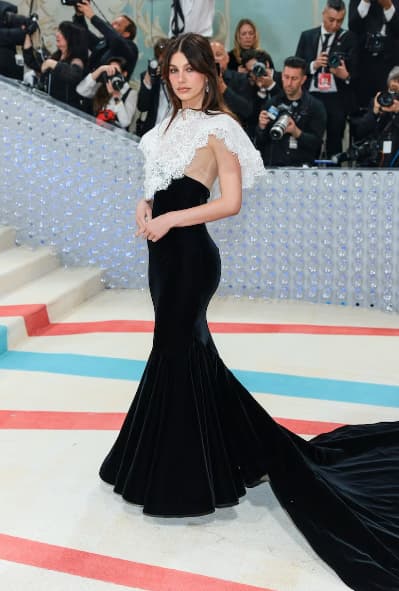 Image: Dimitrios Kambouris //GETTY IMAGES
On the Met Gala red carpet, there were many monochrome outfits, but one of our favorites was actress Camilla Morrone's stunning Rodarte dress. The dress had a dramatic train and cape element, and it was constructed of white lace and black velvet. In a very Rodarte sense, it brilliantly nods to Lagerfeld's aesthetic.
Allison Williams in Patou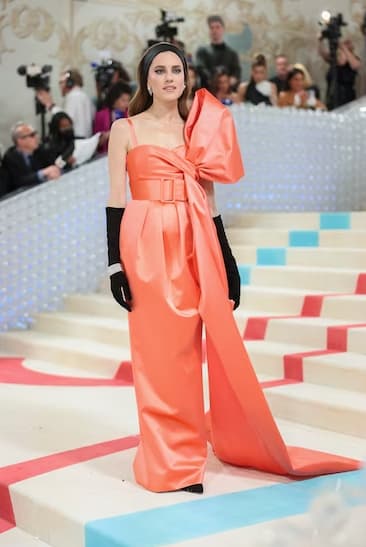 Image: Christopher Polk //GETTY IMAGES
Allison Williams chose to wear a Patou creation as a reference to some of Karl's earlier moments. She accessorized the dramatic and elegant bright orange satin dress with black opera gloves and a complementary hairband. It had a large bow on the shoulder and a statement belt.
10 Worst Outfits from the 2023 Met Gala
Met Gala 2023 was a night of elegance and glamour, but it was also a night where some celebrities made fashion faux pas. From outrageous outfits to ill-fitting dresses, there were some truly awful looks that made us cringe. Here we'll take a look at the worst-dressed stars from the Met Gala 2023 and examine why they missed the mark.
Irina Shayk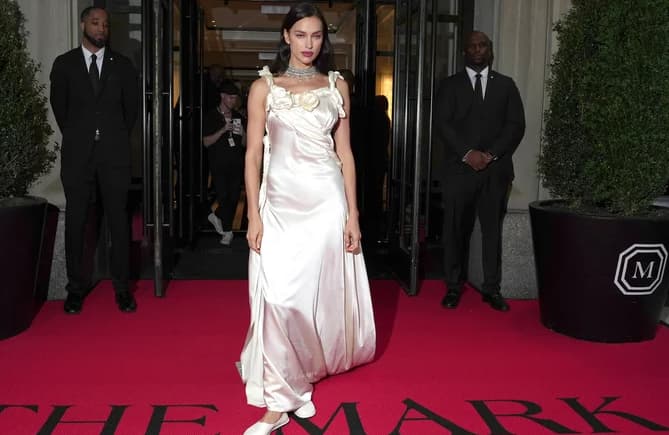 Image: Ilya S. Savenok //GETTY IMAGES
Irina Shayk, a Russian model, may have perfected the season's rosette trend, but we wouldn't say her outfit was daring enough to embrace the concept. Although this dress in the color of champagne might be appropriate for other occasions, it is a poor attempt at paying homage to Karl Lagerfeld. Shayk's choice of a bold necklace, flats, and this gorgeous dress only served to add insult to injury.
Olivia Wilde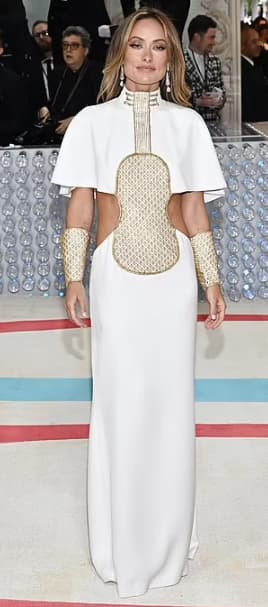 Image: GETTY IMAGES
We usually like Olivia Wilde's fashion, but we were surprised by the strange gown she wore on the Met Gala red carpet in 2023. It's true that this flowing cape dress has traces of Karl Lagerfeld's 1970s-era style. Unfortunately, the finished product has more of a Halloween spirit than a Karl Lagerfeld one.
Billie Eilish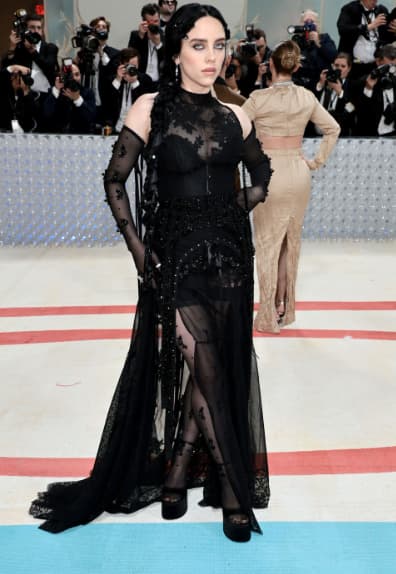 Image: JAMIE MCCARTHY //GETTY IMAGES
Billie was undoubtedly one of the best-dressed celebrities at the Met Gala the previous year, which may be why she opted for an almost identical dress this time. With sheer sleeves and a fitted bodice, it is essentially the same design just in a different color. Such overt outfit repetition warrants criticism, even though Lagerfeld's work was anything but retrograde in terms of design.
Kate Moss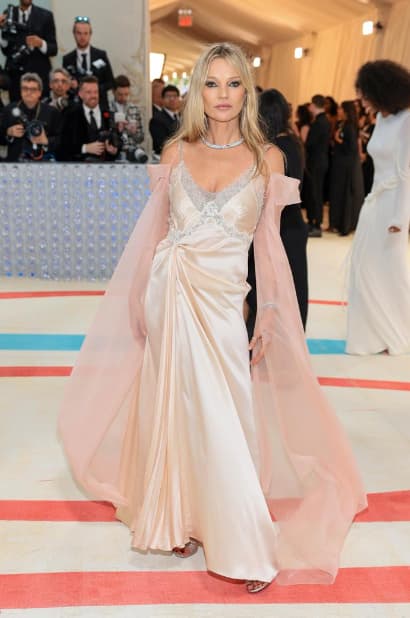 Image: John Shearer //GETTY IMAGES
As much as it kills us to say it, Kate Moss' outfit for the 2023 Met Gala fell short of expectations. Everything about the dress, including its dramatic flowing and gossamer sleeves, is present on paper. But despite its outstanding qualities, it doesn't do Moss or the theme justice. Above all, we wished Moss had worn something a little more daring to make her stand out from the crowd.
Emma Chamberlain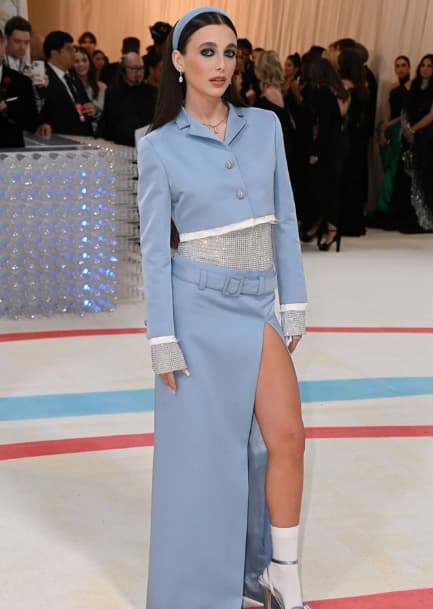 Image: David Fisher/Shutterstock
The 2023 Met Gala included various costume-like reinterpretations of Karl Lagerfeld's creations. These outfits resembled cosplay more than Costume Institute, and Emma Chamberlain was a notable offender. We're not sure what Chamberlain was aiming for with this outfit, but it didn't leave a good impression on us. Part Daphne from "Scooby Doo," part Chanel Spring 1995 collection — we're not quite sure what Chamberlain was going for with this outfit.
Emma Wall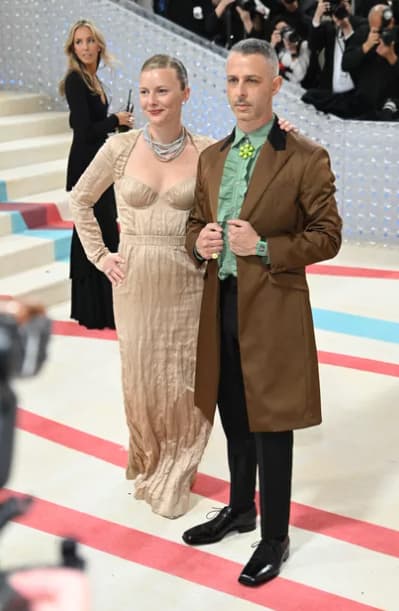 Image: Noam Galai //GETTY IMAGES
What did we initially think of Emma Wall's floor-length gown? It appears to require a thorough ironing. We were so underwhelmed by the actress's Met Gala ensemble—a basic, slicked-back updo and barely there makeup—that we were bored to tears. Even Wall's modest, understated manicure looked to melt into the uninspired, oatmeal-colored pattern, which was a further insult.
Alexa Chung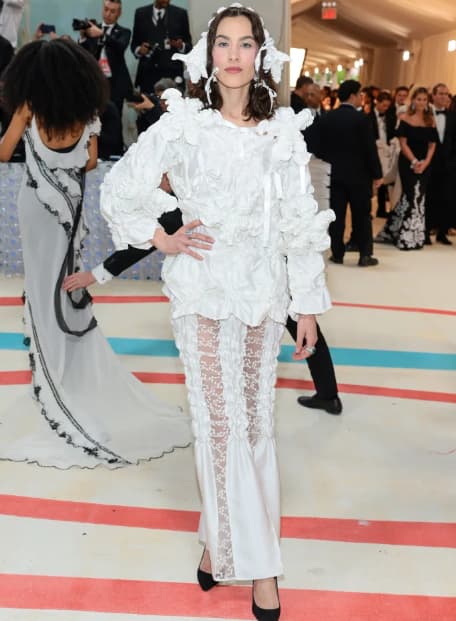 Image: Dimitrios Kambouris //GETTY IMAGES
Alexa Chung has a reputation for being a real trendsetter. We were perplexed by her 2023 Met Gala costume, though, from the Little Bo Peep and Little Mermaid hybrid of her frock to the wispy, braided strands mysteriously dangling in front of her face. However, this is a Met Gala look we won't soon forget.
Letitia Wright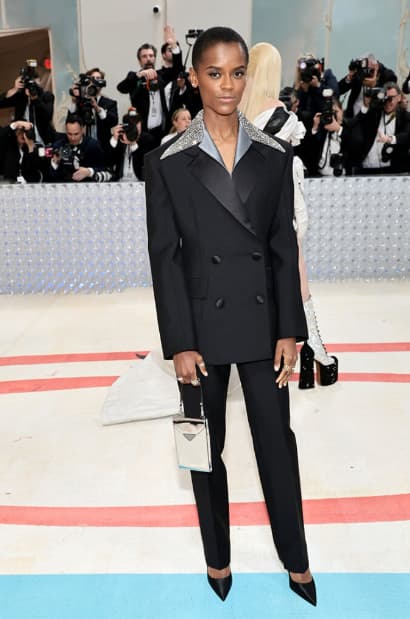 Image: GETTY IMAGES
Letitia Wright, a Guyanese-British actress, had the right intention with her stylish menswear-inspired outfit, but we're afraid her tailoring fell short at tonight's Met Gala. We admired her double-breasted tuxedo jacket's embroidered dagger collar and an assortment of striking jewelry, but we couldn't get beyond its baggy cut.
Kendall Jenner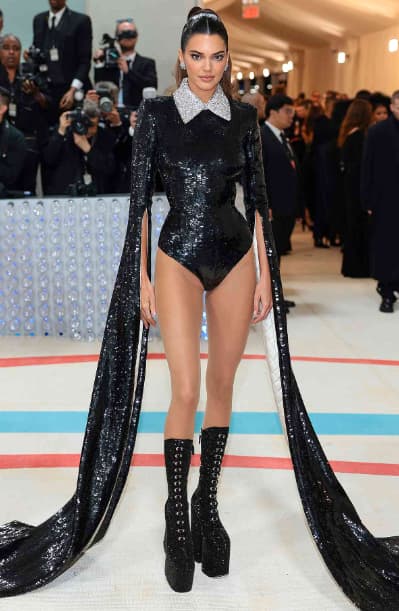 Image: DIMITRIOS KAMBOURIS //GETTY IMAGES
The look Kendall Jenner wore to the Met Gala may have been ideal for, say, a 2010 Jeffrey Campbell advertisement, but it's not really appropriate for the most important night in fashion. Even though Jenner had gorgeous floral earrings and perfectly styled hair, they were unable to make up for the rest of the cheeky fit. Although it might have been influenced by gymnastics leotards, it wasn't particularly balanced.
Brooklyn Decker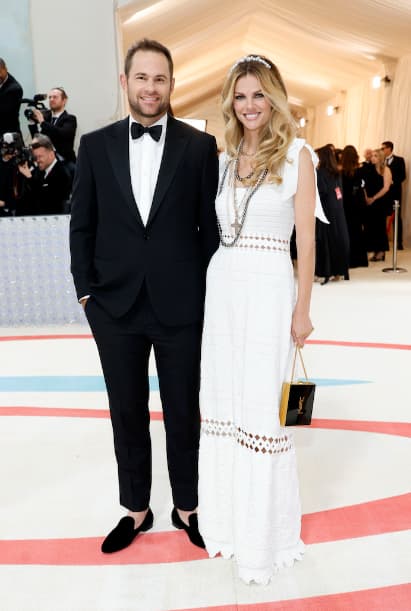 Image: Mike Coppola //GETTY IMAGES
We can understand what Brooklyn Decker was going for with this flimsy Karl Lagerfeld-inspired outfit, but we can't say that she succeeded entirely. When worn with flowing hair and a tangled variety of jewelry, this informal crocheted gown resembles a beach cover-up rather than haute couture. For a red carpet appearance, the end effect is unimpressive.
Hope you have liked this discussion about the Best and Worst outfits that appeared at the Met Gala 2023 occasion and found out the positives or negatives each of the celebrities tried into their outfits.