This Halloween, let us take you on a magical adventure as we explore a world of enchanted transformations based on the works of beloved personalities. These Halloween makeup ideas will help you bring your favorite characters to life with a touch of spookiness and a dash of creativity, whether you're going for the timeless glamour of Barbie or the eerie allure of Wednesday Addams, the regal vibes of Black Panther, the spine-chilling essence of Pennywise, or the playful insanity of Harley Quinn.

These ideas for Halloween makeup will provide you with a wide range of options, whether you're hoping to evoke a sense of nostalgia or to give others the chills all night long. Let the wonder and mystery out as we delve into the science of metamorphosis as seen through the eyes of these legendary characters.
1. Barbie Makeup Look Ideas:
Inspired by Barbie, Barbie's makeup is elegant and whimsical. This beauty style evokes the doll's glamour with bold, vibrant colors, immaculate skin, and exaggerated lashes, emphasizing femininity and imagination. Below is the Barbie Look step-by-step process: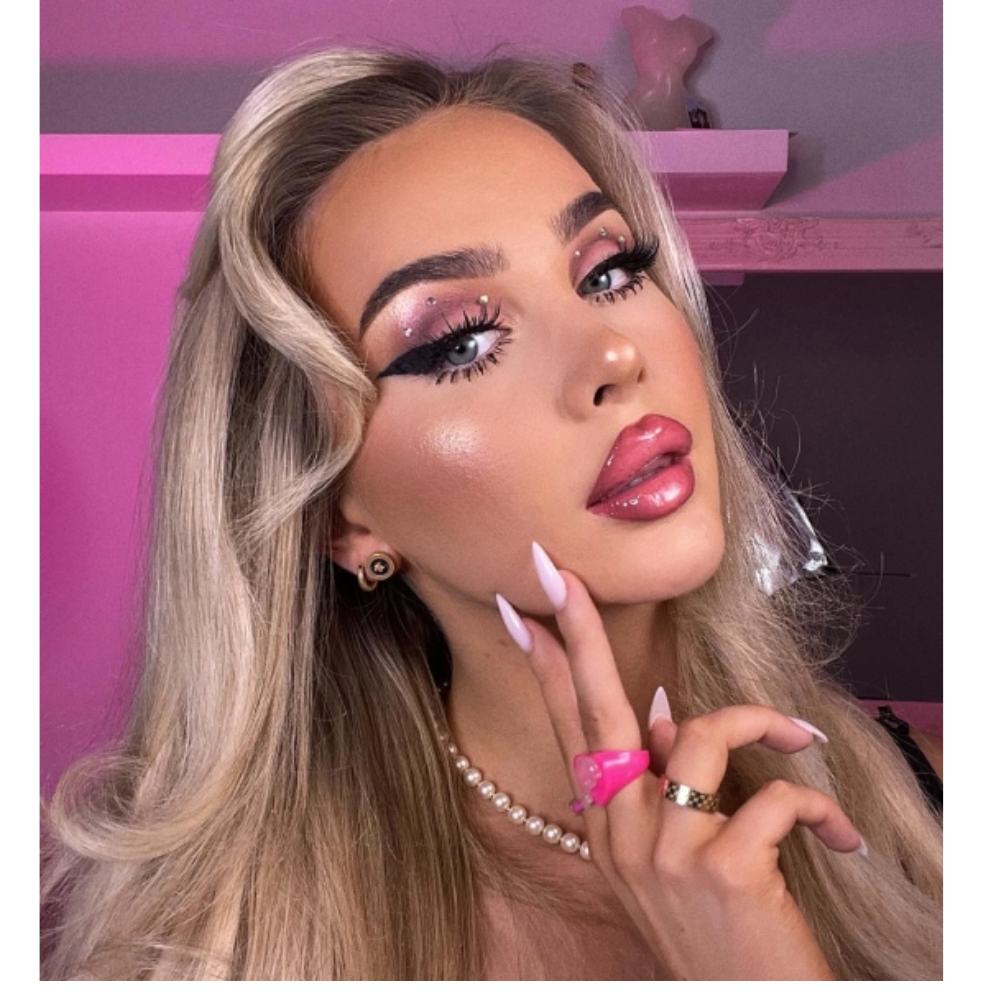 Get ready to paint: Start with a face that is clean and wet. Use a primer from Planet Beauty to make a smooth surface for your makeup.
Unblemished Foundation: Use full-coverage makeup to get a flawless face. Blend well to get a finish that looks like porcelain and reminds you of Barbie's skin.
Rosy Cheeks: Use a Bobbi Brown bright pink blush for $25.20 on the apples of your cheeks for a flush that makes you look young and cute, like a doll.
Perfectly Arched Brows: Make sure your eyebrows are well-defined and shaped. Barbie's eyebrows are usually well-shaped and raised, which makes her look more put-together.
Highlights & Contour: Use highlighting and coloring to make your face look better. For a sculpted look, draw attention to the high parts of your face, like your cheekbones and nose. Get them from Planet Beauty for just $40!!
Lush Lips: Choose a MAC bright pink or red lipstick for just $26.00 to make your lips look like Barbie's. Overline the lips a little to make them look bigger and more doll-like.
Setting Spray: Use a Frankie Rose Hydrating setting spray to make sure your makeup lasts all day and keeps everything in place. Get it for just $30.
Finishing touches: Check to see if there are any spots that need to be touched up. This will make sure that your makeup looks polished and like it was inspired by Barbie.
2. Wednesday Addam Makeup Look Ideas:
The "The Addams Family." figure inspired Wednesday Addams' makeup. This makeup style embodies Wednesday's gothic and mysterious charm with pale skin, dark, kohl-rimmed eyes, and a deadpan expression, creating a unique and distinctive look.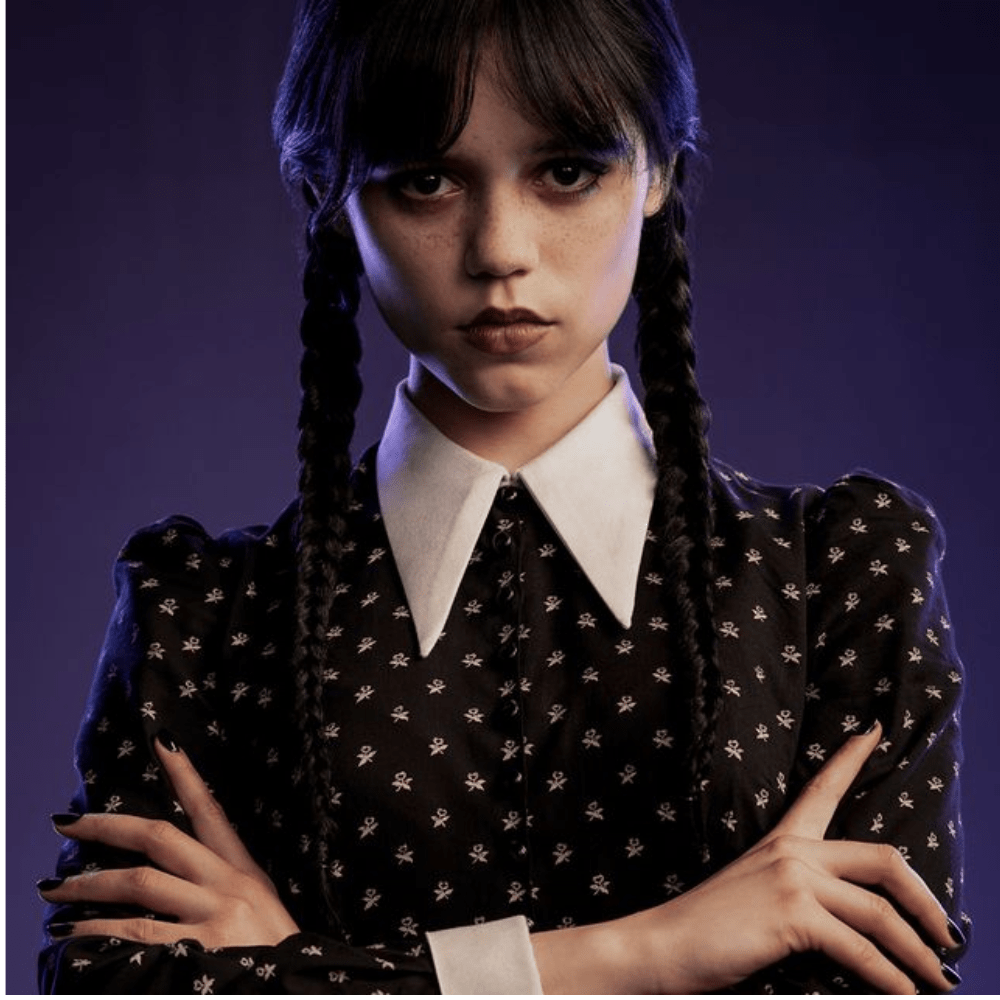 Pale Complexion: Use a Bobbi Brown foundation for just $29 that is a shade or two lighter than your actual skin tone to achieve Wednesday's distinctive pale complexion. Blend it evenly for a ghostly look.
No-Fuss Brows: To replicate Wednesday's plain and serious temperament, keep the brows bold and distinct with MAC Eye Brow Styler for $23.00, opting for a straighter, broader contour.
Subtle Contouring: To add dimension to the face without veering too much from the general light complexion, apply a delicate contour under the cheekbones and around the jawline. Get this from Smashbox Cali Contour Kit for just $46.
3. Black Panther Makeup Look ideas:
The Black Panther makeup style is a powerful and royal appearance that pays homage to the Marvel character of the same name. This cosmetics trend reflects the essence of Wakanda's warrior spirit with its powerful and stunning look, characterized by bold, tribal patterns, intense metallic accents, and a sleek black color palette.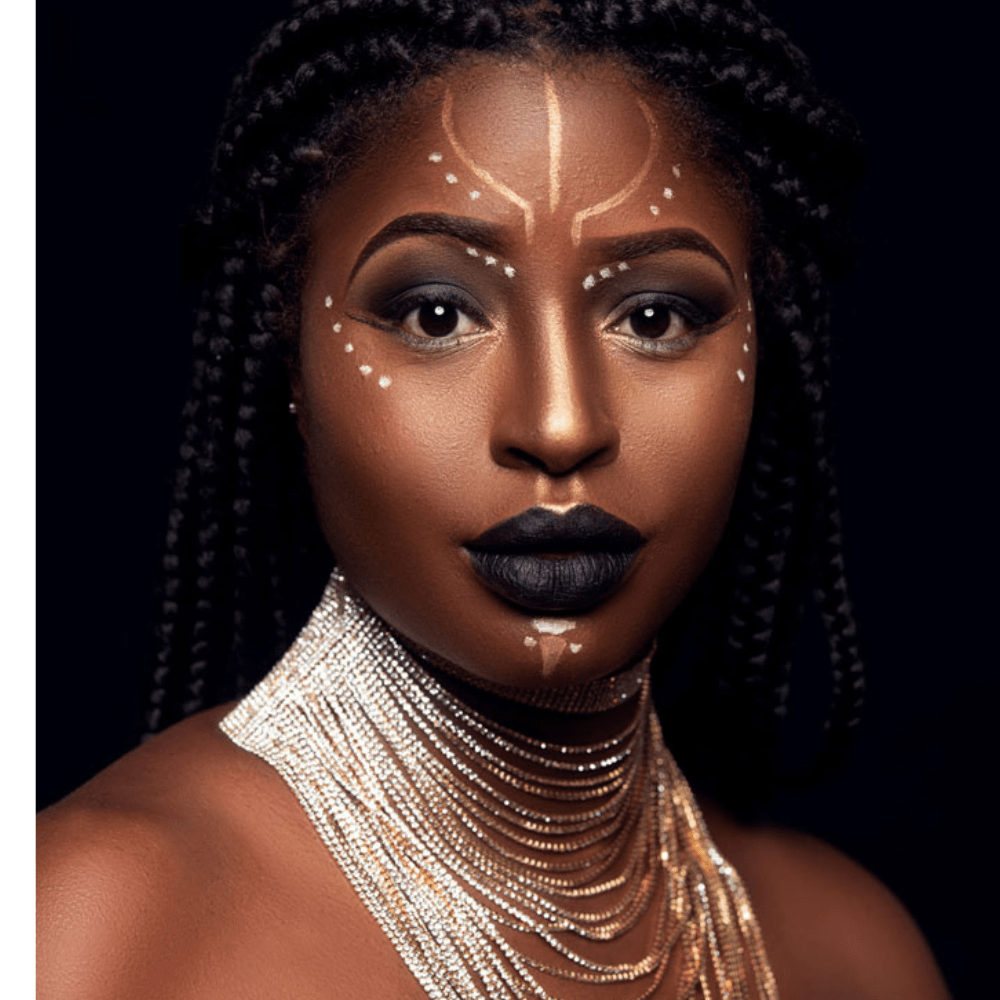 Intense Eye Makeup: Apply a dark matte eyeshadow Bobbi Brown Long-wear Cream Shadow Stick for just $33, like black or deep charcoal, to the eyelids, stretching it slightly past the outer corners for a bold and defined look. For a Wakandan-tech look, you could add a bit of metallic silver or blue.
Geometric Eye Accents: Use geometric eye shapes to embrace the Black Panther theme. Use black eyeliner or face paint at Planet Beauty to make tribal patterns around the eyes that look like the lines on the Black Panther suit.
Metallic Elements: Add shiny touches to improve the look. To look like Vibranium, put silver or shiny blue eyeshadow or face paint in key places, like the inner corners of the eyes or along the upper eyelid.
Sculpted Contour: Use a well-blended Bobbi Brown contour for just $32.90 to shape and define your face, putting the focus on your cheekbones, chin, and nose. This gives the face more depth, making it look more royal as a whole.
Set with Setting Spray: To make sure your Black Panther makeup looks good for a long time, set it with a setting spray.
4. Pennywise Makeup Look Ideas:
Inspiration for Pennywise makeup comes from Stephen King's "IT." For Halloween transformations and creative makeup artistry, these looks usually include sinister red and white face paint, exaggerated features, and a hauntingly dramatic expression to capture the demonic dancing clown.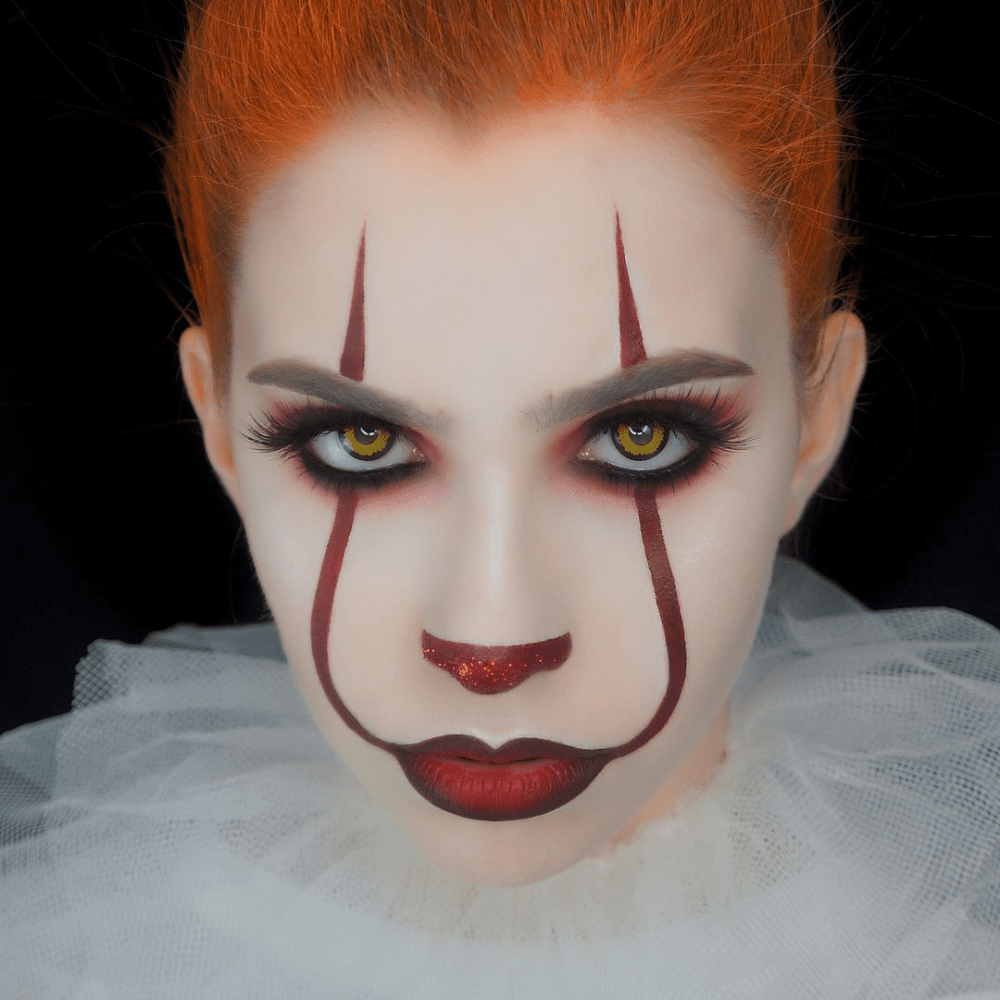 Base Face Paint: Start by putting white face paint or Mac Studio Fix Pro Set makeup at just $36, on your face to get Pennywise's trademark pale skin. Make sure to apply it evenly and cover your whole face and neck.
Red Nose and Lips: Make a big, round nose like a clown's with bright red face paint or Mac Matte lipstick for just $23. Extend the red color to make a wicked smile, putting more emphasis on the corners of your mouth.
Darkened Eyes: Use black or dark brown eyeshadow for just $48 at Planet Beauty, around the eyes to make them look smaller and more scary. For a more dramatic look, bring the makeup up to the temples.
Reddish Eye Accents: Add to the scary look by putting red details around the eyes. This can be done with red makeup or Anastasia Beverly Hills face paint to make the eyes look bloodshot or with fake tears for a more spooky look.
Eyebrow Transformation: Use a black or dark brown eyebrow pencil or face paint to make your eyebrows darker and change their shape. Consider making the arches bigger for a more dramatic and scary look.
Teeth Marks and Lines: Use black eyeliner or face paint to make lines on your upper and lower lips that look like teeth marks. This well-known detail adds to how scary Pennywise looks.
Wig or Hairstyle: To finish the look, you could wear a red wig or curl your hair in a way that looks like Pennywise's wild red curls.
Costume and Accessories: Wear a brightly colored clown outfit and, if you want, add accessories like a ruffled collar or big clown shoes to make Pennywise look even scarier.
5. Haley Quinn Makeup Look Ideas:
The lighthearted yet twisted DC Comics character Harley Quinn inspires makeup looks. Harley's wild personality is captured in these vibrant red and blue color schemes, dramatic eye makeup, and "smudged" lipstick appearances, making them popular cosplay and Halloween costumes.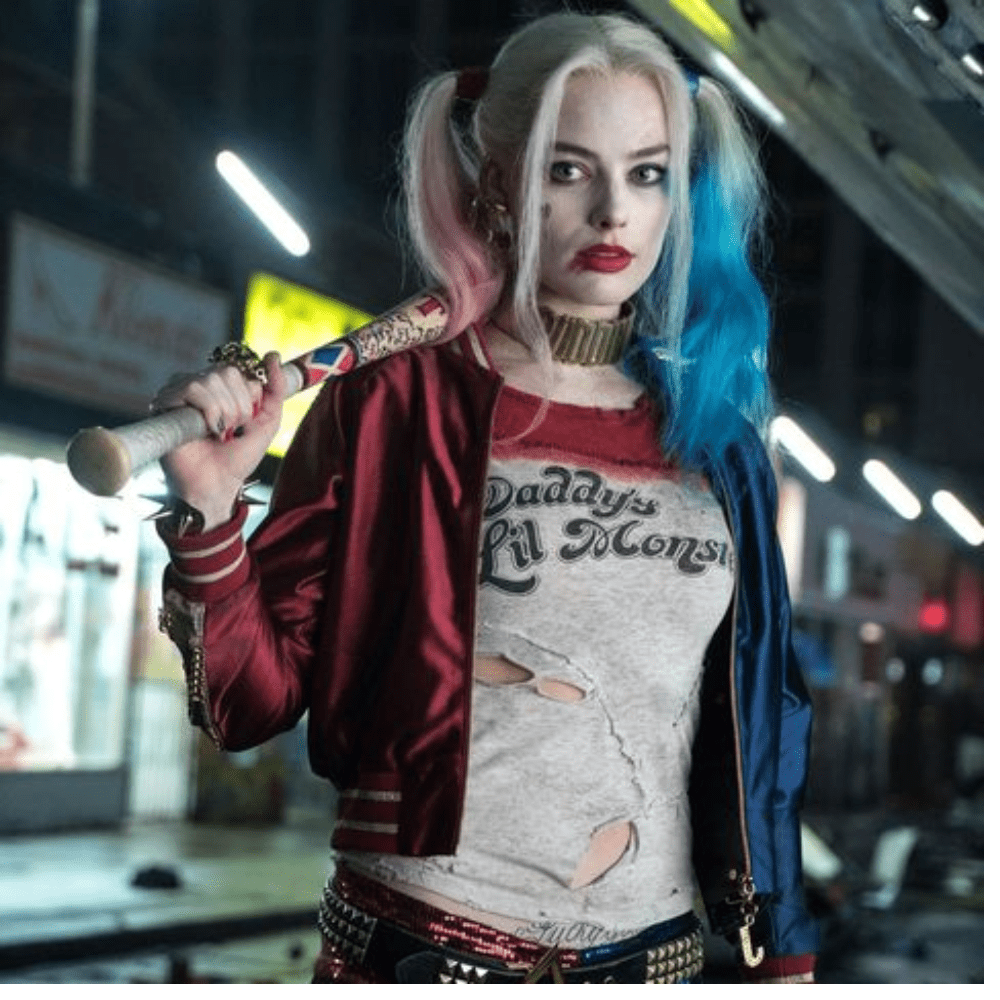 The foundation: To get Harley Quinn's signature white skin, use pale makeup or face paint with Bobbi Brown Foundation. Spread it evenly over your face and neck to create a blank slate.
Eye Makeup – Part 1: Start with the eyes by putting on a strong red eyeshadow on the eyelids and extending it slightly past the outer corners for a dramatic effect.
Eye Makeup – Part 2: Make an accent with Sigma Beauty blue eyeshadow on the lower lash line to match the red on top. Mix the colors together to make a smooth change.
Eyeliner and Mascara: Apply black eyeliner to both the upper and lower lash lines, stretching it into a winged shape for extra flair. Put makeup on your eyelashes for just $20 at Sigma Beauty to make them stand out.
Harlequin Diamonds: Draw the famous harlequin stars on one cheek with Sigma Beauty black eyeliner for just $20 or face paint. If you want to look like Harley Quinn, switch between red and black diamonds.
Smudged Lips: Apply a strong MAC Cosmetics red lipstick for just $23 and smudge the edges on purpose to make your face look messy and untidy. This is how Harley's "just messed up" look is created.
Jester Collar or Accessories: Wear a jester collar or accessories that evoke Harley Quinn's distinctive style to enhance the overall look.
Optional Hair Styling: Consider styling your hair in pigtails or a messy, tousled look to match Harley's playful and rebellious personality.
After the biggest Halloween Makeup Ideas Sale of 2023, makeup's ability to change looks took center stage, giving fans a chance to make stunning looks at prices that couldn't be beaten. From fantasy-inspired palettes to ghoulishly glamorous items, this year's sales not only helped people get creative on a budget but also showed that Halloween is a holiday where beauty and scary things go together. As soon as these amazing deals are over, they will have a lasting effect on how people use Halloween makeup and how easy it is to get. They will also leave a trail of looks that people will never forget.